On May 4, 2016 I visited PS 144Q in Forest Hills, Queens. The after-school event was organized by the school as an opportunity for students and their parents to meet a local illustrator and learn about what it's like to create picture books. The evening began with a reading of Snappsy the Alligator (Did Not Ask to Be in This Book).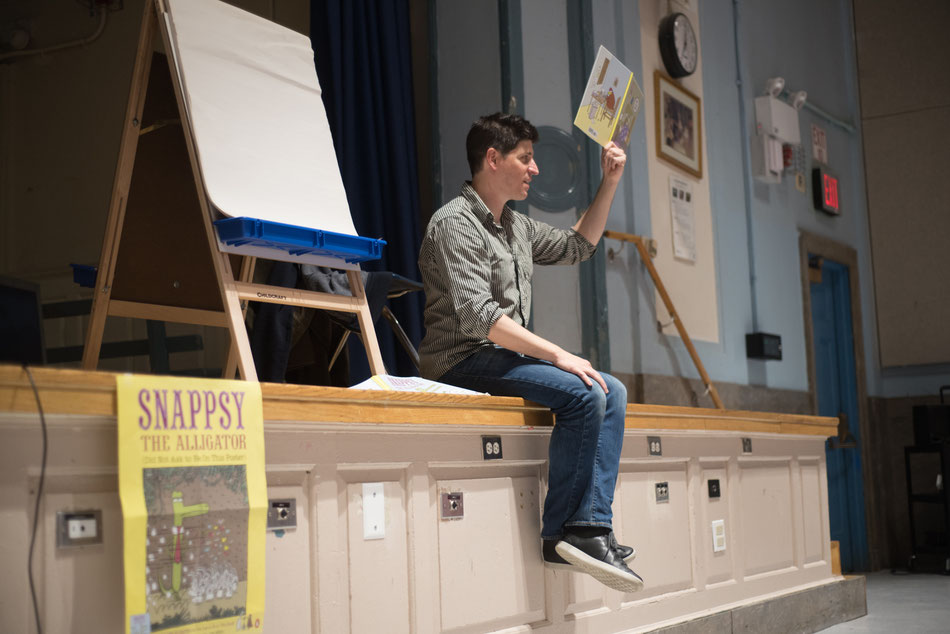 Some families brought their own copies of the book to follow along.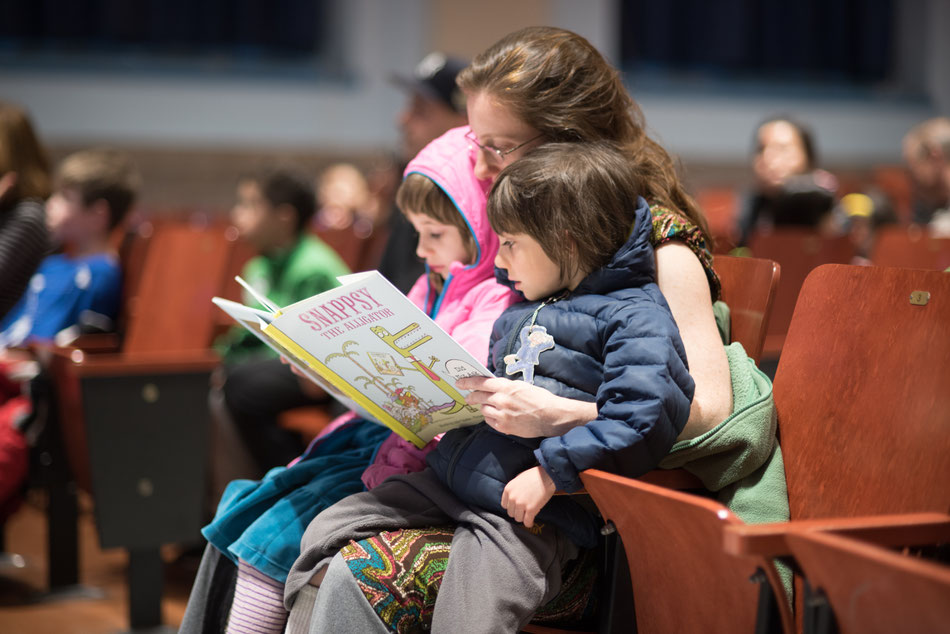 I played the dramatic role of Snappsy while my friend Lois Olshan, the Arts Coordinator of PS 144Q, read the role of the meddlesome Narrator.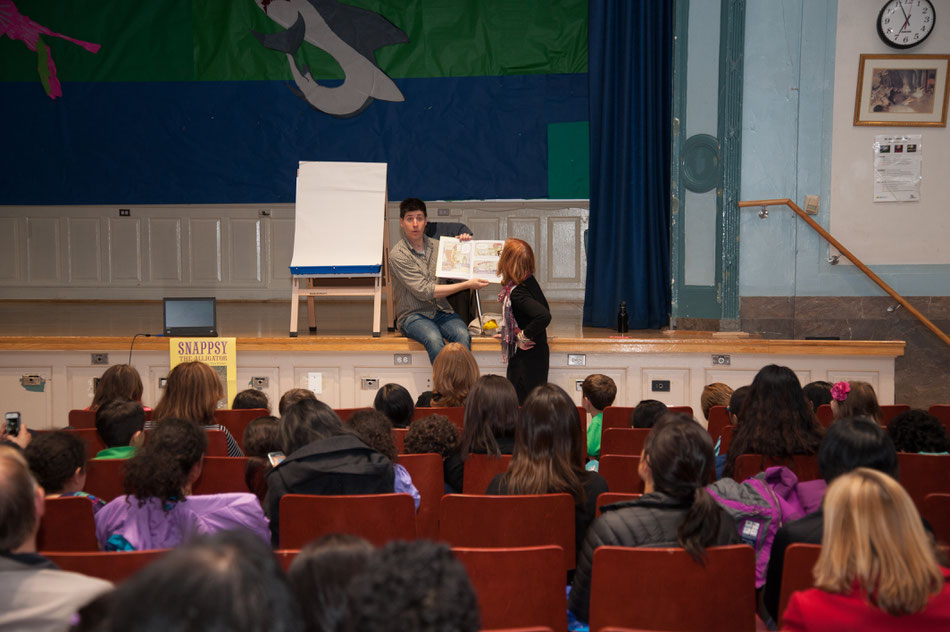 "Snappsy liked to eat tiny, defenseless birds and soft, fuzzy bunnies."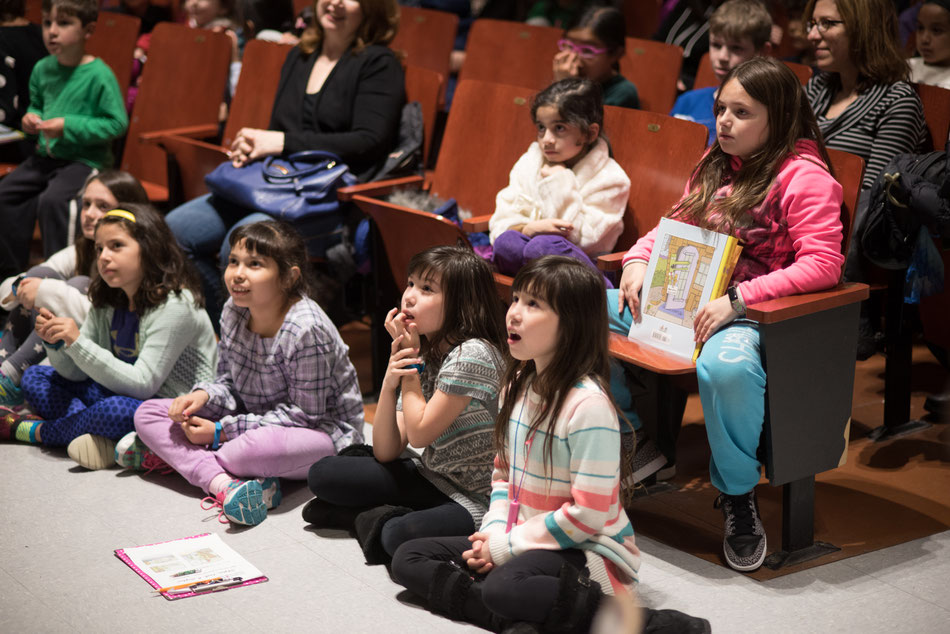 "He prowled through the forest, looking for victims, when he came to a... "
"It's just a store. A grocery store! It's where I buy my FOOD."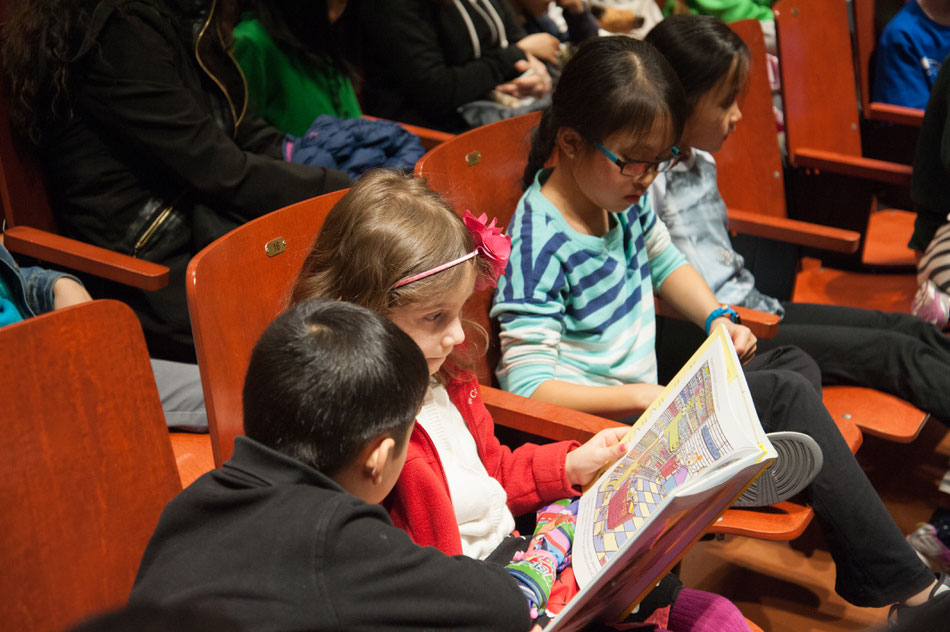 After the reading, students and parents asked me the following questions:
-What is it like drawing pictures for a living?
-What other hobbies do you have besides illustrating books?
-What kind of advice would you offer aspiring writers or illustrators?
-Why did you make the narrator a chicken?
-Why did you give Snapssy a tie?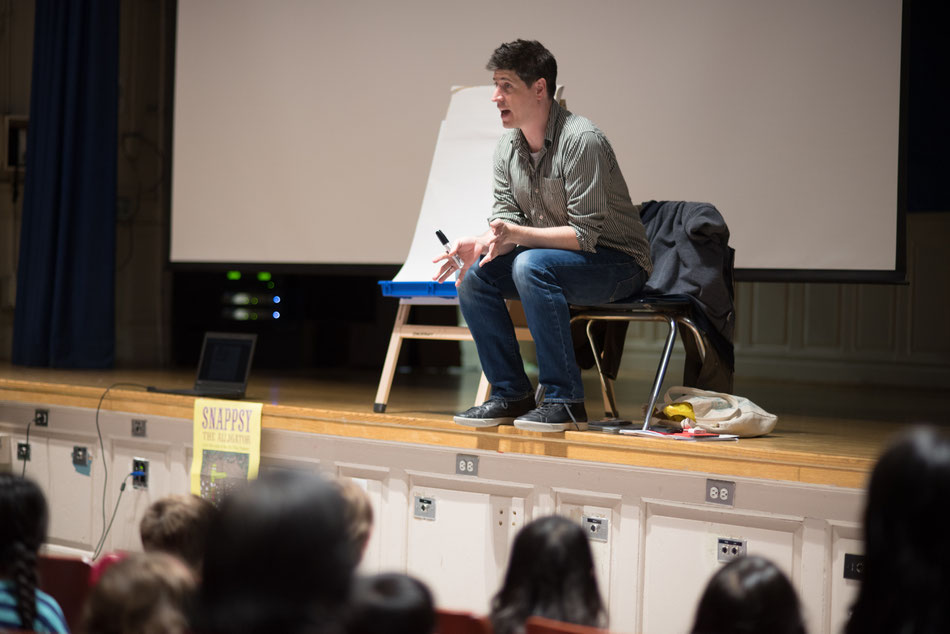 Here are my answers:
-I feel very lucky that I can do something creative for a living, but it can also be difficult sometimes when I am trying to draw and things don't come easily. I can feel anxious and nervous when that happens, but if I can work through it then I feel a great sense of satisfaction in figuring things out.
-Some other hobbies I enjoy besides drawing are visiting museums and looking at art, as well as reading.
-I think if you want do anything creative for a living it is good to forgive yourself for your mistakes because by accepting them you can learn to grow and change for the better.
-I made the narrator a chicken because it was the first thing that popped into my head and I thought it would be funny to draw. I also grew up on a farm and love chickens!
-I gave Snappsy a tie so he wouldn't be naked. I also thought it gave him an extra bit of personality.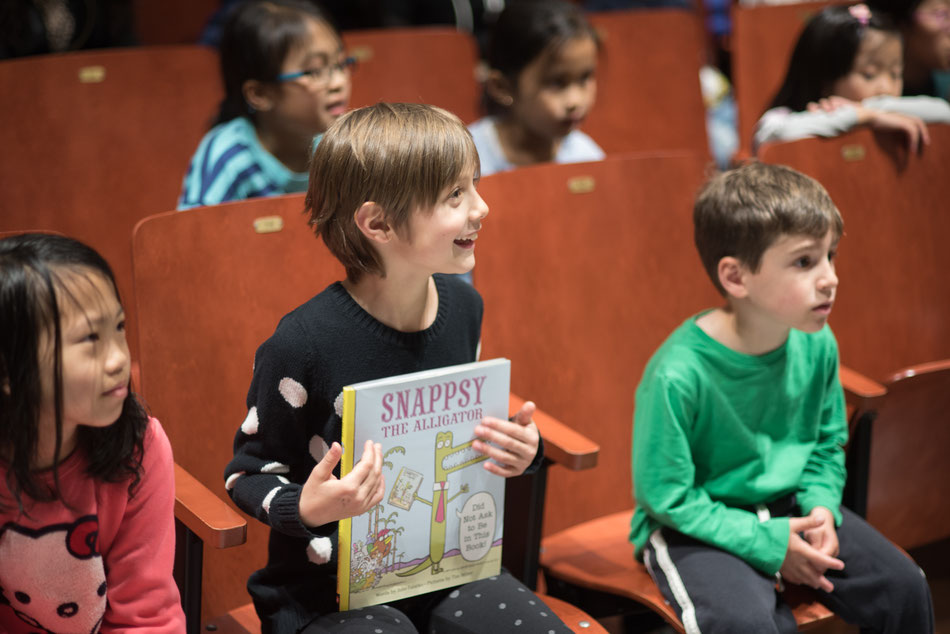 Next, I did some drawings. I began by sharing the first thing that I learned to draw when I was the same age as many of the students.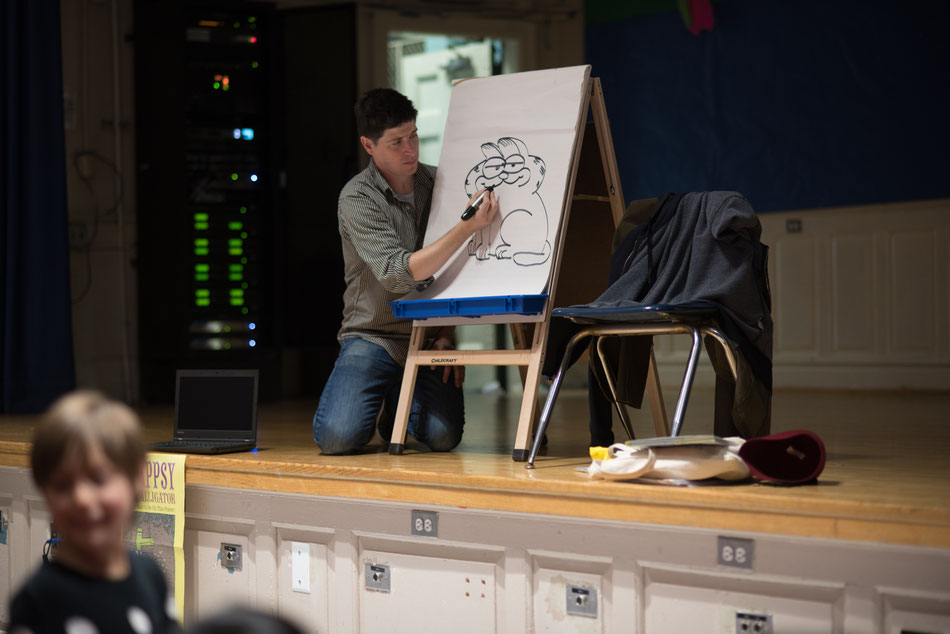 I was happy to see that kids these days know who Garfield is.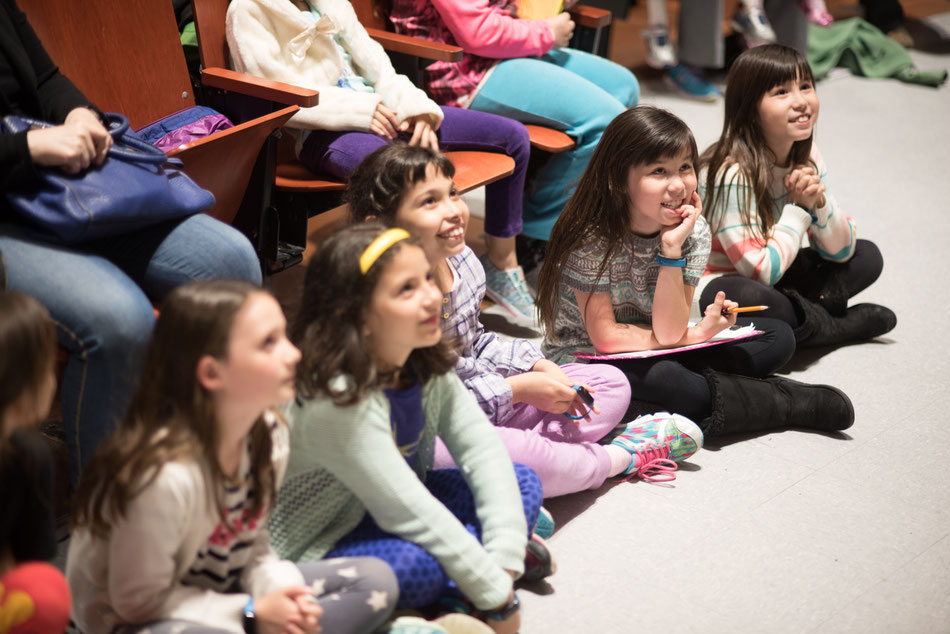 Then, I demonstrated how to draw Snappsy.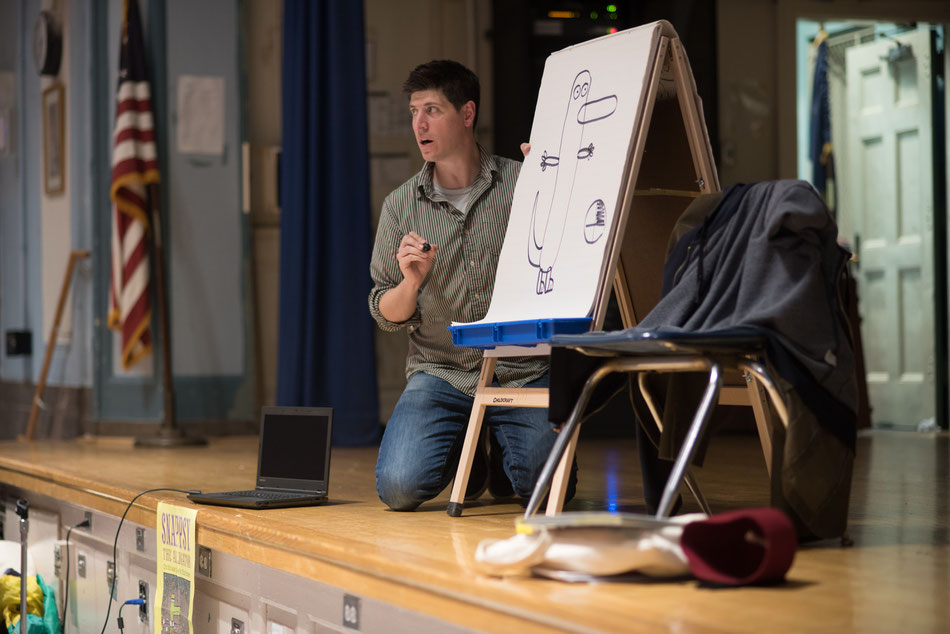 I even added a fez as requested by the audience.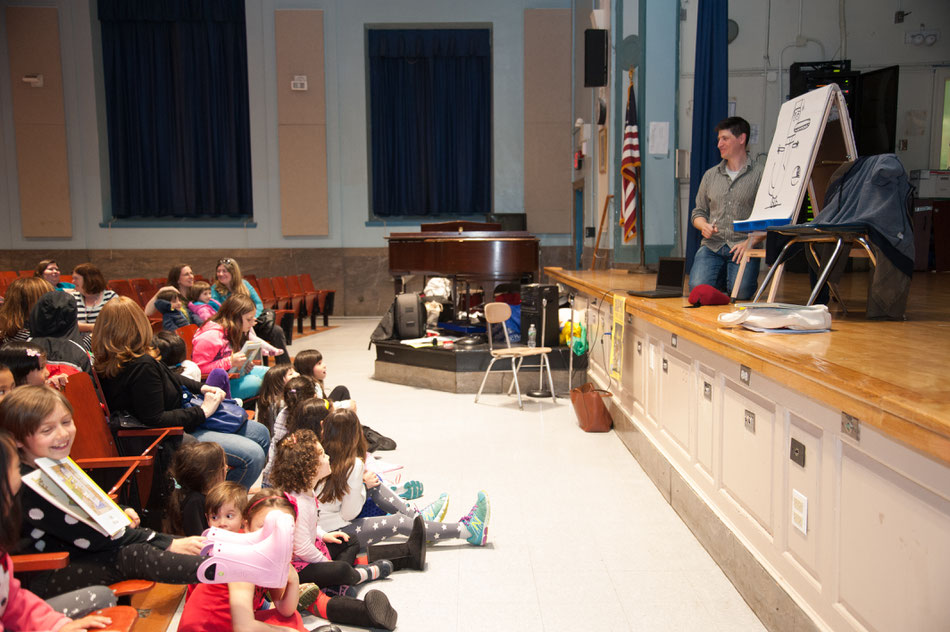 Following the demo, I asked if there were any volunteers who wanted to draw Snappsy with me.
A brave student named Samantha joined me on stage and wowed the audience with her masterful drawing of Snappsy.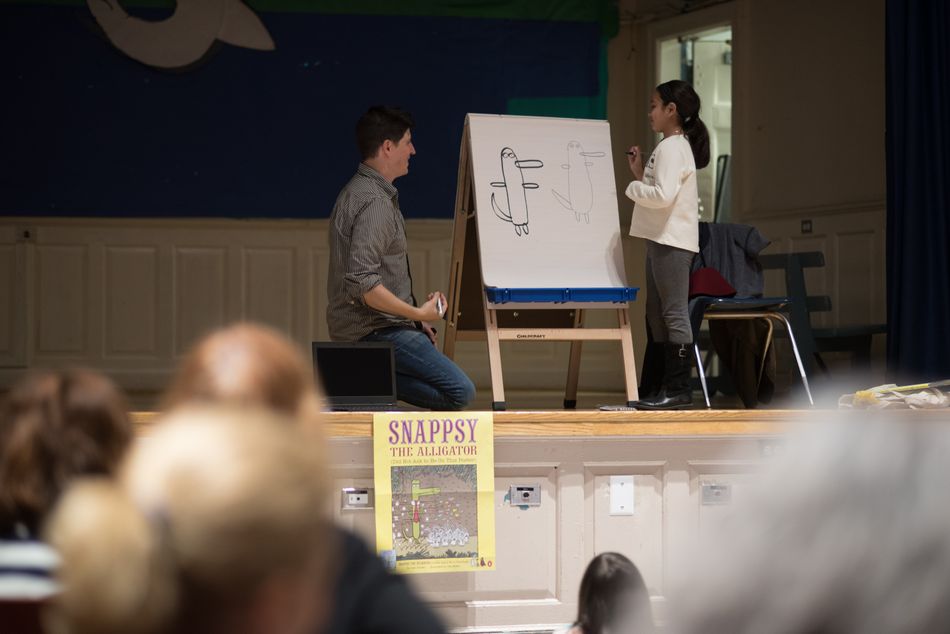 After the presentation was done it was party time! Everyone moved to the the school cafeteria and put on party hats as they enjoyed pretzels, popcorn, and punch. The Astoria Bookshop kindly made books available for purchase, and then I happily met all of the students and parents that wished to have their books signed.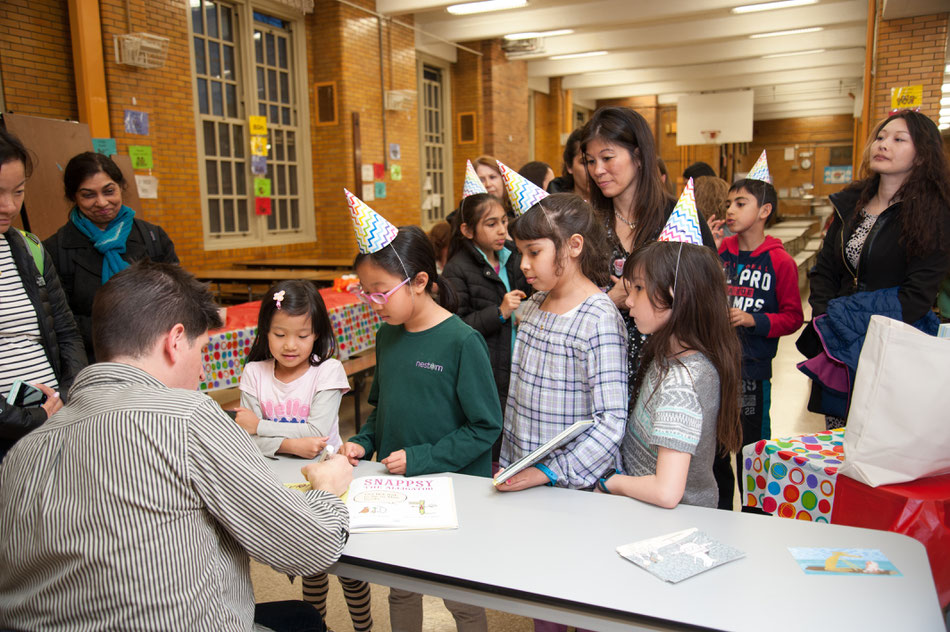 In addition to the party treats and book signing, there was also a table set up inviting everyone to draw their own Snappsy.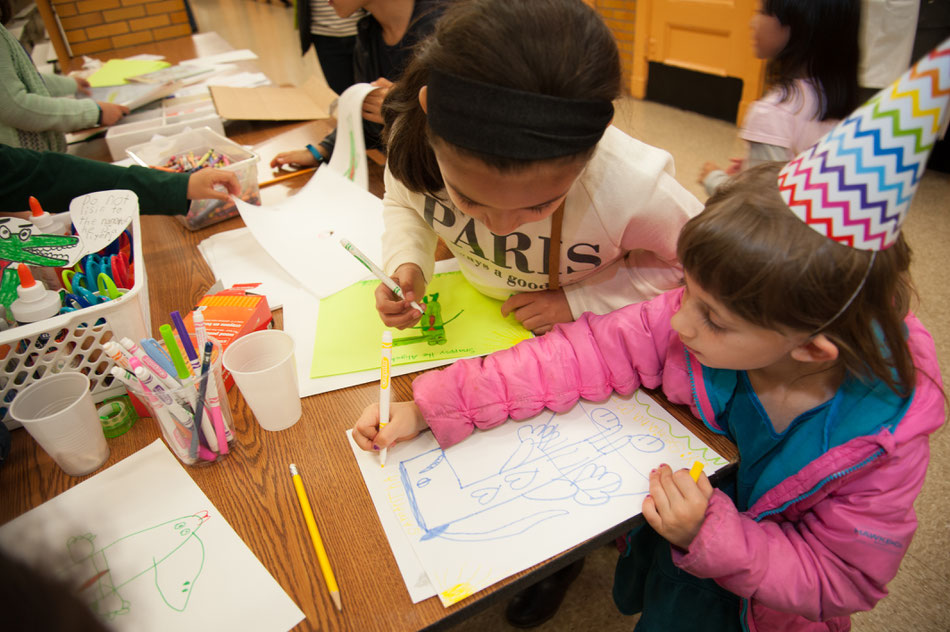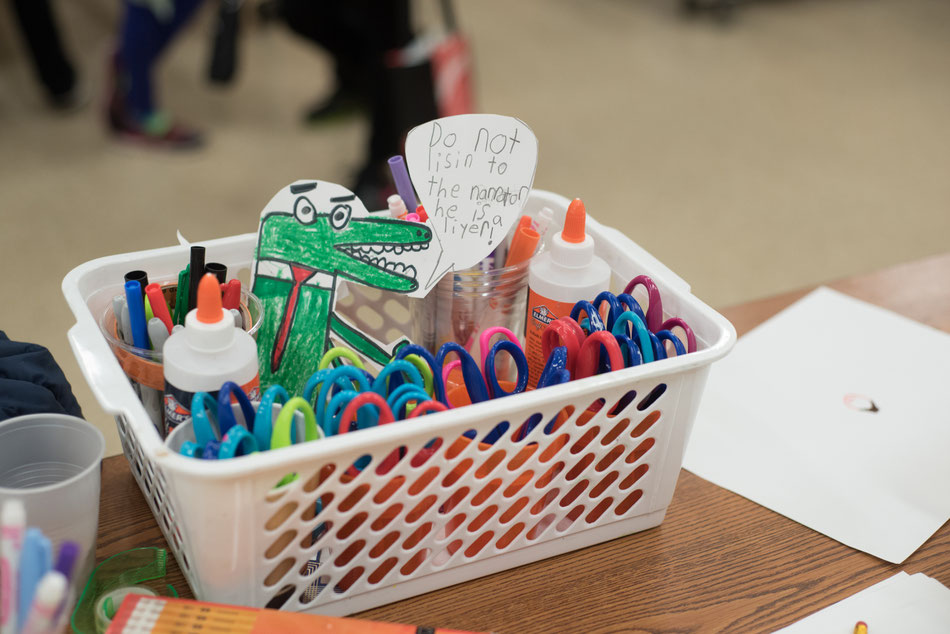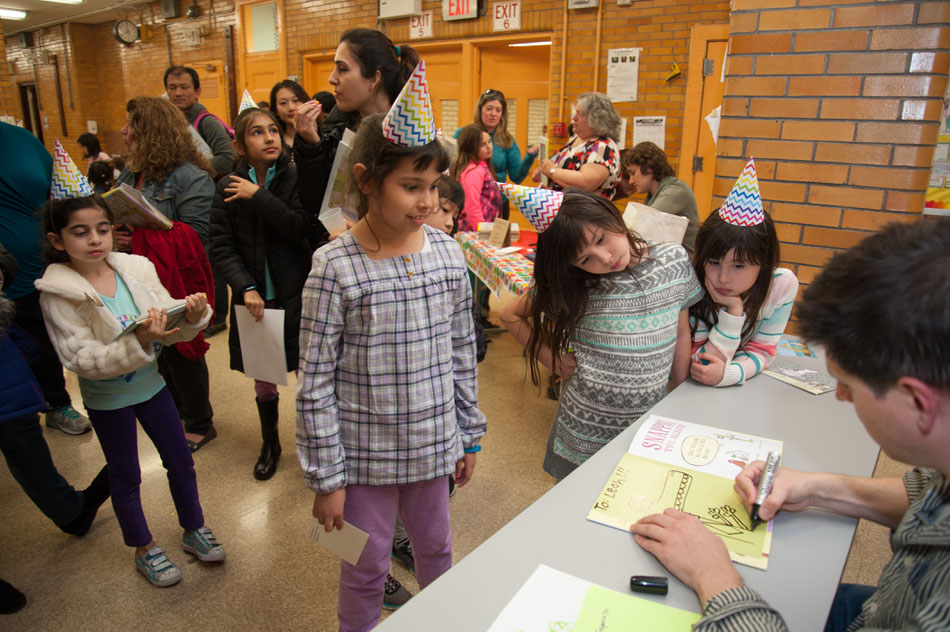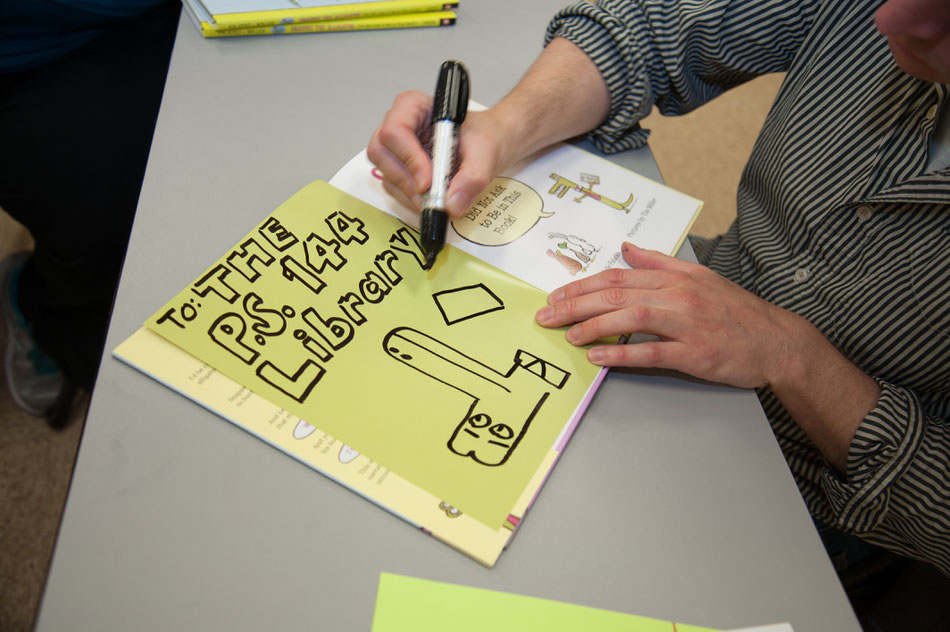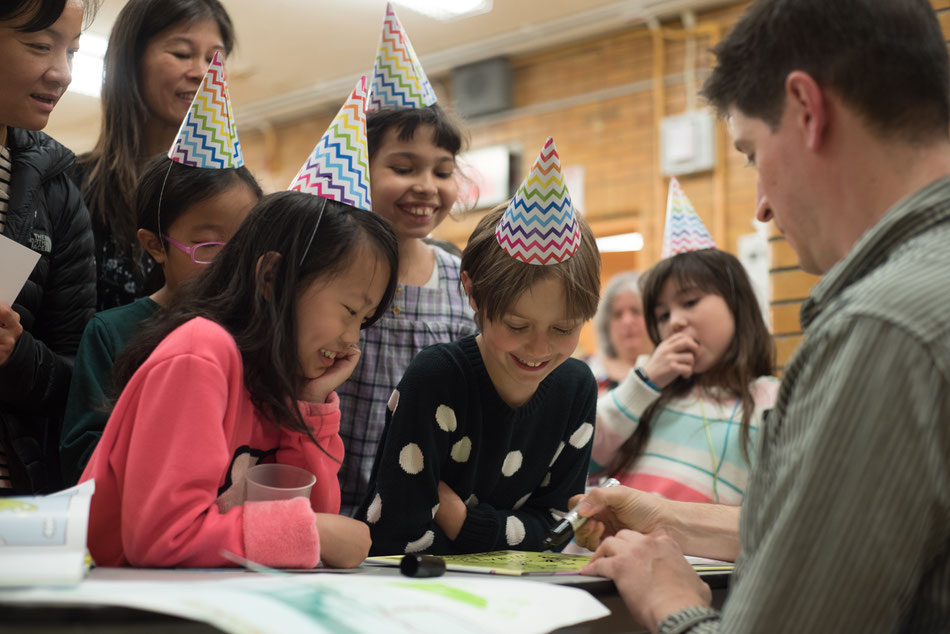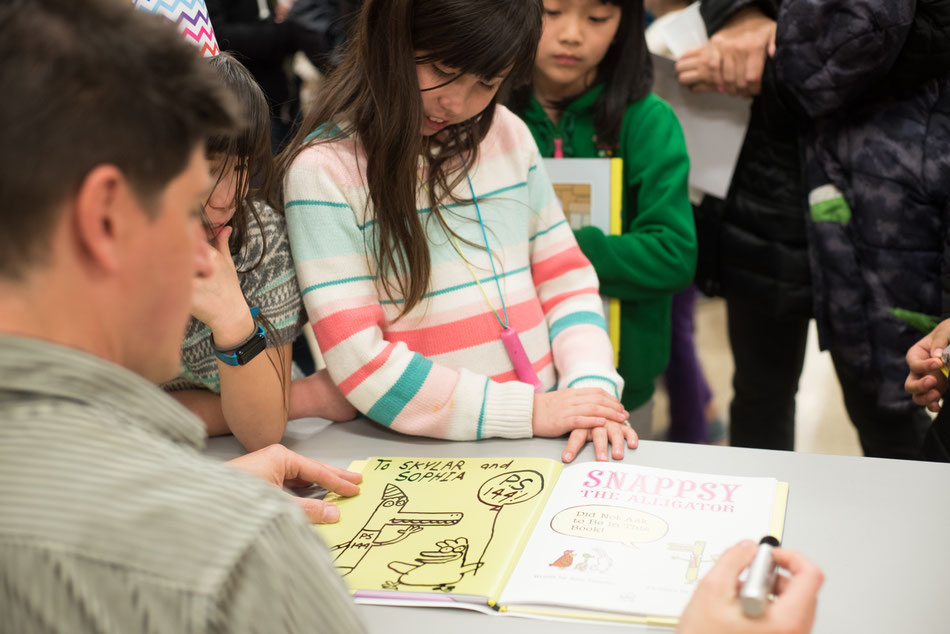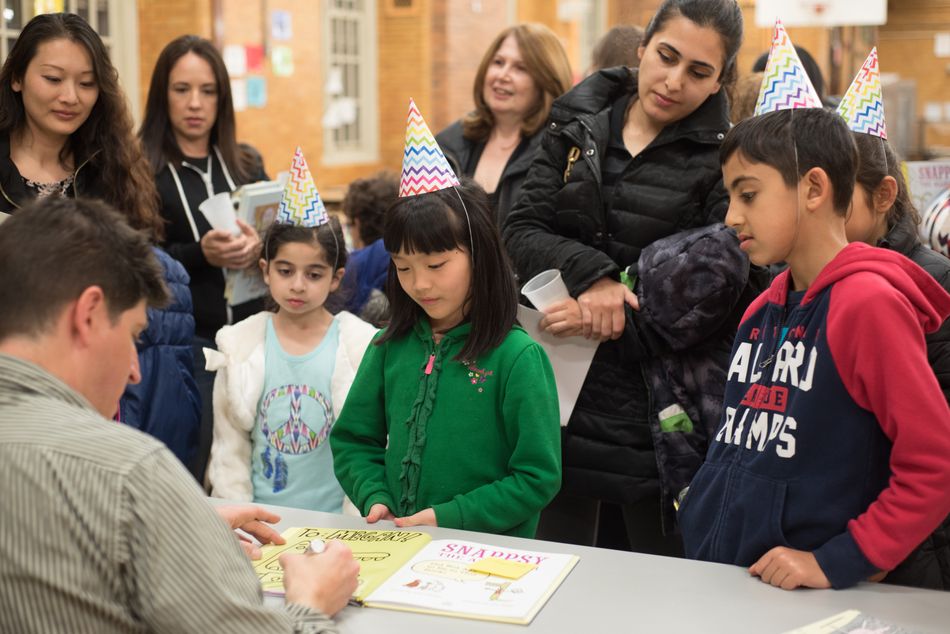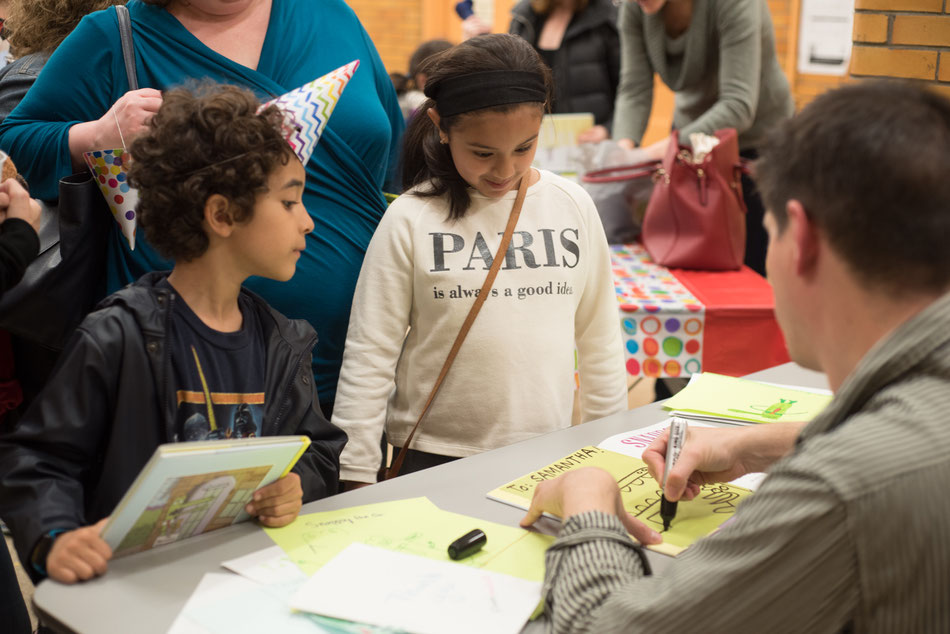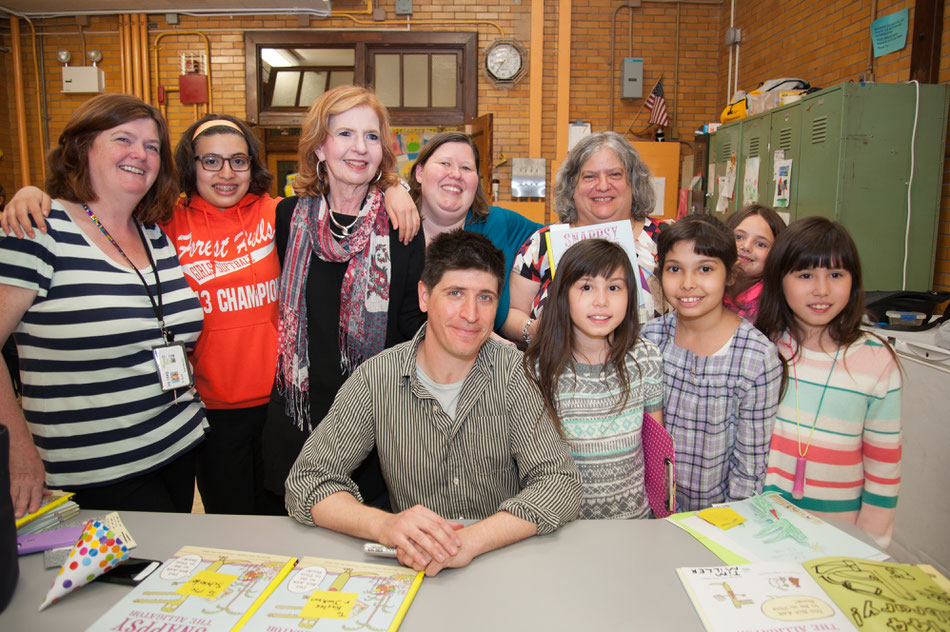 I would like to express my sincere thanks to PS 144Q for the opportunity to visit the school. I had a wonderful time and am grateful for the many new friends I made. Also a special thanks to Carmen Rubio Photography for taking pictures of the event.